Spending time reading several articles on your phone sometimes may make your eyes tired and affects your vision. Luckily, there are a lot of text-to-speech applications on the smartphone market to make it more convenient and easier for you. With these apps, you won't have to look at the screen all the time, but all the content will be converted to voices for you to listen to. For example, you can install an application to listen to all kinds of e-books, or you can leave the phone in another place and work, but can still listen to the entire article without missing any content. Here are the best text-to-speech Apps that you can get on your Android phone.
Google Lens
Google Lens provides a lot of useful features that you can do with your images. For example, this app can convert a document picture into text for editing. It also can help you to search for information based on the scanned data. On top of that, Google Lens will convert text into speech for you just in some simple steps. 
First, open Google Lens and then select Text mode. Now point the camera at the text you want to convert. Make sure that the camera is clean and stable. Press the center circle button to capture the image. Google Lens will automatically scan the text content and at this point, you will see the option Listen. Choosing this option and the app will read the content for you. You will see a white frame moving along with the word being read. If you want to pause listening, press the Pause button.
Android Text-to-Speech Feature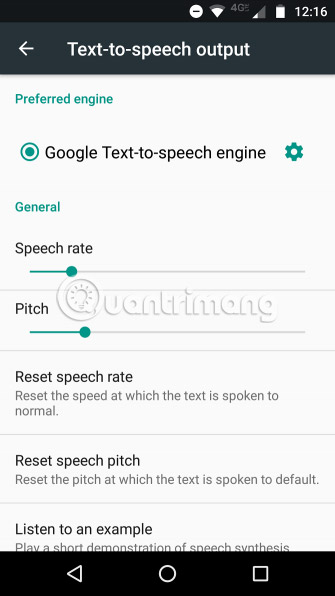 Android has many helpful tools to make your phone easier to use. One of these tools is the text-to-speech feature. However, this feature has fewer customizable settings than some of its competitors. You can adjust the voice speed, the pitch of the sound, and install additional languages. To set up the text-to-speech settings on your phone go to Settings> Personal> Language and input> Speech> Text-to-speech output.
Android's text-to-speech feature automatically works with other Google apps. You will find a Read Aloud feature in these apps which will read the selected text for you. For all other apps, you'll need to enable Select-to-speak in Android's settings menu. To do that, go to Settings> System> Accessibility> Services> Select-to-speak. Now you can select any To use it, select text in any app and choose Speak from the menu.
Voice Aloud Reader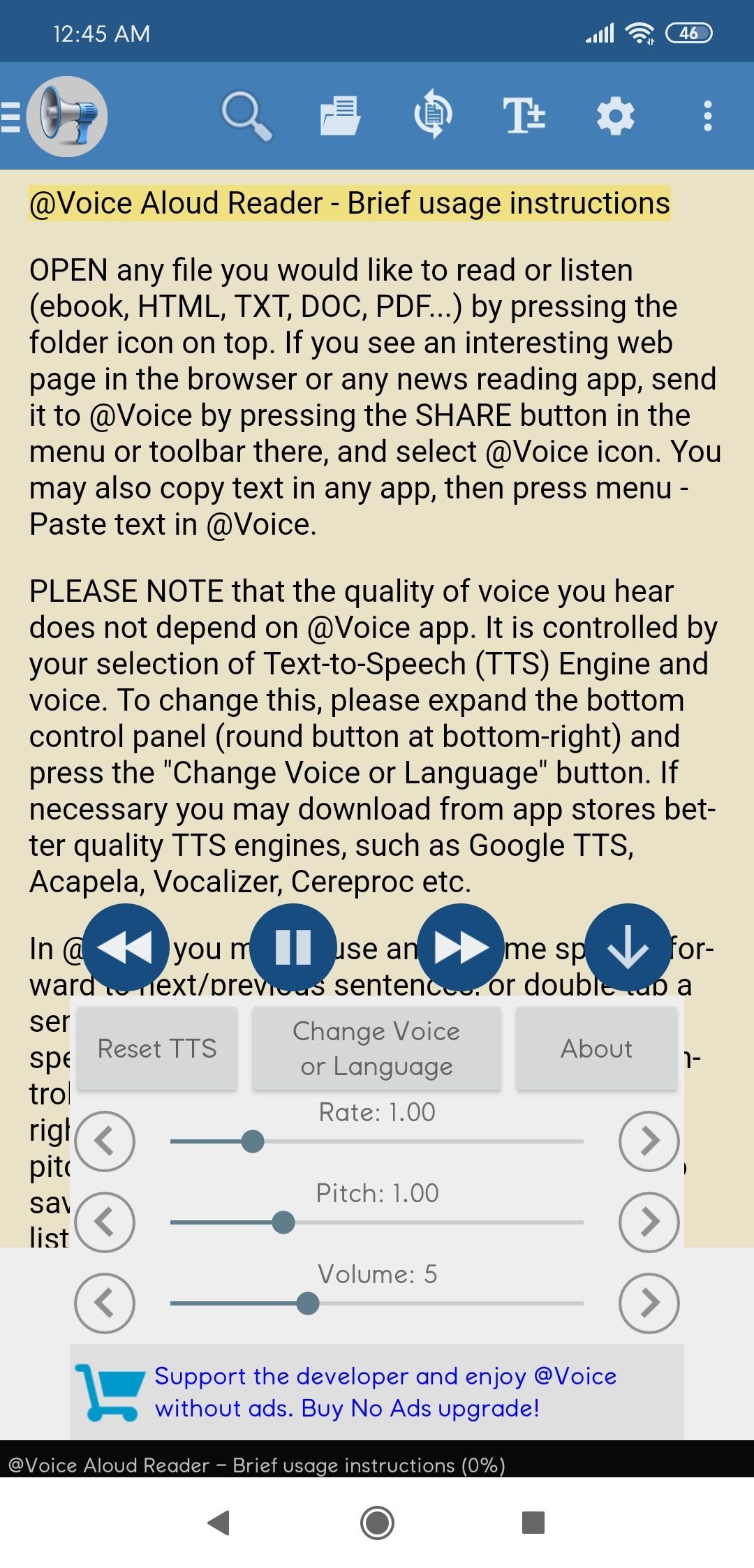 Voice Aloud Reader is easy to use and supports several ways to convert text. If the app you want to read text has the sharing feature, simply send the content to Voice Aloud Reader using the Android Share menu. This also works for on-screen items with their own share buttons, like tweets and Facebook posts.
Similarly, if the text you want to read is selectable, you can use the Share button in the context menu. This app also works with URLs. Just paste the address (or article) of the website into Voice Aloud Reader, and it will automatically parse and read the relevant text for you. It's smart enough to remove menus and other unimportant parts.
You can even add text files (like DOC and PDF) directly into the app. It can then open the files and read their contents.
Narrator's Voice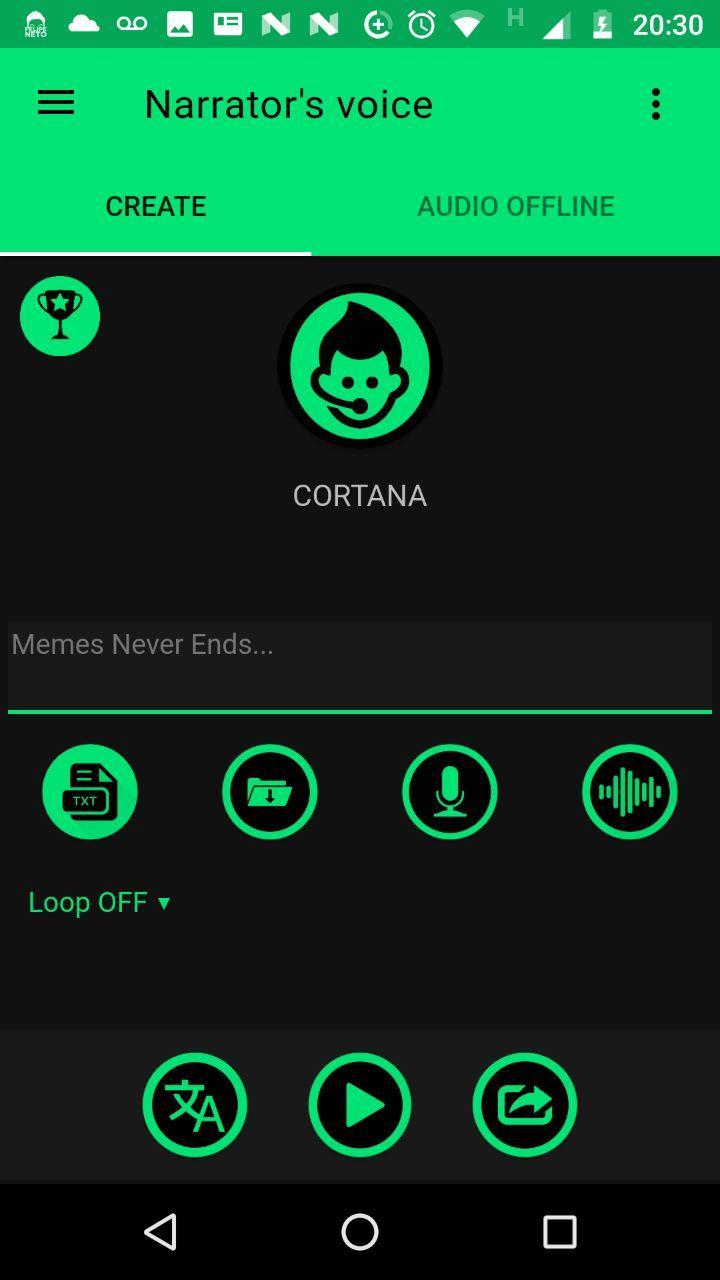 Narrator's Voice offers a little bit of a difference. The usual feature of this application is that it can read text from apps, the web, messages, and other sources. However, the app also has an interesting side. You can add various sound effects to the voice synthesizer such as echo, bass, and chorus. In addition, you can also select which voice will read the text for you. You can select the famous voice of Cortana, Siri, or Bixby the developer's own creations like "Steven" and "Pink Sheep".
Additionally, the Narrator's Voice lets you add your own text, which will then run through the app's synthesizer. It makes the app a great way to dub video clips, present presentations, and more. You can even save the output audio file like MP3, store the file offline and share it with friends.
In-app purchases will remove ads.
Talk Free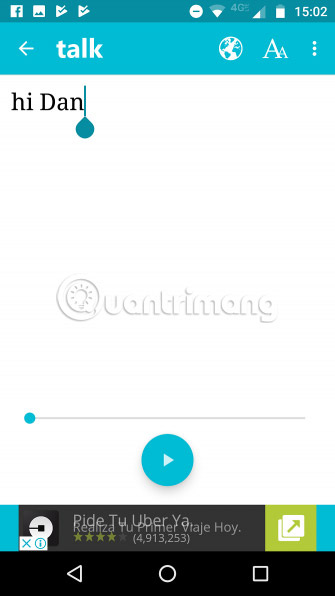 Talk Free takes a more minimal approach compared to Voice Aloud Reader and Narrator's Voice. This app can import web pages directly from your phone's browser or read text from other third-party apps. You can export all audio files and save them offline in WAV format.
It's important to note that Talk Free relies on your phone's existing text-to-speech (TTS) engine to work. Most Android devices will have Google's tools installed. If you have removed your phone's TTS engine, you can re-download Google Text-to-Speech for free. The benefit of using Google's TTS engine is support for multiple languages. If Google offers a language, Talk Free can usually work with that language as well.
The pro version will remove ads.
T2S

T2S is a text-to-speech application that provides one of the most modern interfaces among the applications discussed in this article.
The app's standout feature is the presence of a simple, integrated web browser. The number of features it offers isn't overwhelming, but it allows you to easily listen to web pages without having to worry about copying and pasting URLs or using the Share menu. T2S's copy-to-speak feature is also worth mentioning. It shows a popup button on the screen whenever you copy the text in other apps. Pressing this button will cause the application to immediately start reading the copied text. Like the other apps on this list, T2S lets you save your audio readings and share them with others.
The Pro version will remove ads.
TK Solution Text to Speech
Another popular text-to-speech app on Android is TK Solution's Text to Speech.  This app also offers you some similar features as the previous apps. This including being able to export WAV files, an area where you can enter your own text and read text aloud, and support multiple languages.
It also offers a unique feature that deserves its place on this list: Vocal input. You can press the microphone button, speak into the app, and then listen to the synthesized version of what you said. However, there is one bad thing about this app. Many users do not like the big settings window that Besides, many people do not like the space that is too large for the application's settings, which once appeared at the top of the window.
You can remove ads through an in-app purchase.
Pocket
Pocket is a slightly special option. You probably already know that the app is a great way to save articles and read them later when you're offline. However, you may not know that the application also has a text-to-speech feature. This feature supports multiple voices and languages ​​(adjustable pitch and speed). It even supports background playback, meaning you can keep listening while you use other apps.
Since the text-to-speech feature was one of Pocket's original features, it's great when you want to listen to some long content on the go and don't have an Internet connection available. Obviously, if you want to hear texts from all your apps, this is not the right choice for you.
There you go, this is our list of 8 best text-to-speech apps that you can get on your Android phone. Have you tried any of them before?  Do you have any other apps to recommend? Let us know in the comments!